SHIMMER Volume 2 Kicks Off With Jessicka Havoc!
Categories: Company News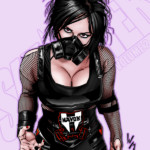 In 2013 we partnered with SHIMMER Women Athletes and released a game edition based on their incredible promotion and amazingly talented roster. To no surprise it was a huge hit!
This year, we're at it again! Coming in late August is SHIMMER Volume 2! It's an expansion game edition that will include 8 SHIMMER wrestler cards and be available in three different forms: standard printed color card, printable PDF, and digital online!
We've just announced the first wrestler included – the HAVOK DEATH MACHINE – JESSICKA HAVOK – and will reveal more card art every Monday night leading up to release! Just follow us on Twitter @filsingergames or check out our message boards: 
filsingergames.proboards.com/thread/14240/shimmer-volume-2-roster-art
 and you'll never miss a beat!
SHIMMER Volume 2 is coming soon! GET EXCITED!