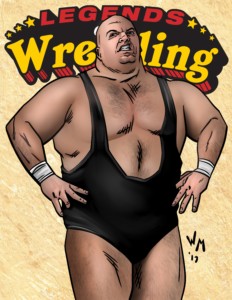 We are proud to announce that the spectacular summer releases from Filsinger Games are now available to preorder!
First up is the highly anticipated newest chapter in the Champion of the Galaxy universe, Regime Change 2133! In 2132 Sly Drury made a shocking return to the GWF.  What changes are in store for Sly and his team?  What new challenges are set to face the man who Runs This Fed?  Lots of mysteries will continue until the reveal at GalactiCon weekend in Jamestown on July 7th.  Unable to join us in Jamestown?  Don't worry, a PDF of the 2133 handbook will be made available to purchase on July 7 to those that can't be there.  Stay tuned to the site for details.
Also, in a tribute to the original Legends of Wrestling card release in 2001, we are releasing a Limited Edition King Kong Bundy color card!  This updated card will be the perfect addition to your color Legends of Wrestling fed.  Those that are attending GalactiCon will receive this card for free!
Games begin shipping on Monday July 10th!  Preorder Regime Change 2133 HERE and the King Kong Bundy LE Card HERE.