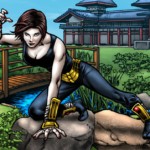 Look out ladies division of the GWF — here comes TAICHI!
This deadly fighter is from Titan and has been brought to the GWF by Lord Nexus in 2129.  She'll use two deadly finishers to make her foes submit: KNEE BAR and ARM TRIANGLE! Her deadly martial arts moves will make her a female version of Kenji!
Can she rise to the top among the ladies? Will she take the ultimate challenge and go after Alpha Female?
The answers are coming when the BLACK DEATH 2129 pack is released. It'll start mailing on December 16. You can pre-order on Black Friday, which is November 29. Watch for more teasers in the weeks ahead!