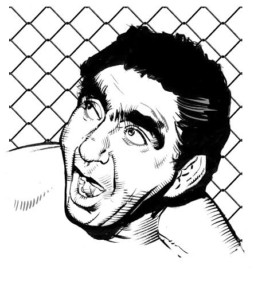 Hard to believe they were actually related.
"Wild Bull" Curry is coming to Legends Final Chapter and he's taking on all comers! One of the originators of the hardcore style of wrestling, "Wild Bull" Curry is a former 20-time holder of the Texas Brass Knuckles Championship! Curry has been called a "walking riot," even beating up wrestling fans that attacked him! "Wild Bull" Curry feuded with another notorious hardcore legend, the original Sheik! Who will win their battle in your fed?
Amazingly his son was a clean-cut athletic star, "Flying Fred" Curry. His high-flying aerial style made him popular with fans and he was a very successful tag team wrestler, winning titles with wrestlers like Bobo Brazil and Billy Red Lyons, to say nothing of a two-year title run with his father, "Wild Bull" Curry. What a wild tag team the Curry's will be in the LWF!  "Flying Fred" was so over with the fans that he was named PWI Most Popular Wrestler of the Year in 1972.
It's insane, but "Wild Bull" Curry and "Flying Fred" Curry are coming in Legends Final Chapter in December! What an amazing final tribute to the Filsinger Games black & white era of game cards!