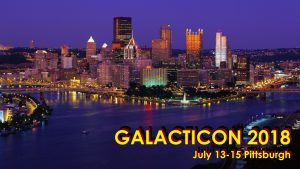 This year marks the 29th Annual Filsinger Games Summer convention.  It is July 13-15 and you don't want to miss it!  The main convention will be 10-6 Saturday and 10-2 Sunday at the West Meeting Center, 1204 5th Street, West Elizabeth , PA 15088.
Here are 10 things to get you excited about attending this year.
Our host city Pittsburgh! – A great wrestling town and home to the late great Bruno Sammartino.  There is lots to see and do to make it a full weekend of fun.  Ride the Duquesne Incline and see the best view of the city.  Grab a Primanti Brothers sandwich.  And its just a couple hour drive from the Football Hall of Fame in Canton, OH and the Rock and Roll Hall of Fame in Cleveland.
The official GalactiCon Hotel – Many game fans will be staying at the Fairfield Inn and Suites Belle Vernon (189 Finley Rd, Belle Vernon, PA 15012), which has reasonable rates and is about 15 minutes from the convention site.  There are also other nearby hotels (Holiday Inn Express, Hampton Inn) and lots of restaurants in the area to choose from.  Make your travel plans now!
Pittsburgh Pirates Game – Friday night kicks off in downtown Pittsburgh at beautiful PNC Park as we will watch the Pittsburgh Pirates take on the Milwaulkee Brewers. Filsinger Games has a block of tickets in Pirates Cove which includes unlimited soda, popcorn, and peanuts throughout the game! Make sure to reserve your ticket by May 15th to be in our ticket block.  To reserve tickets by Paypal and Credit Card send $35 per ticket to by clicking HERE.
Live Wrestling on Saturday and Sunday! – Nothing makes a weekend of wrestling gaming better than seeing some live wrestling!  On Saturday night we will see the best Indie wrestling in the Pittsburgh area, the International Wrestling Cartel!  Tickets for the event will be available at the GalactiCon convention and will include a special IWC game card.  Fans that want to stay around until Sunday night can go see the WWE's Extreme Rules live at the PPG paints Arena in Pittsburgh (tickets will not be arranged by Filsinger Games.)
Game Releases for all Filsinger Games Fans – Whether you are a Champions of the Galaxy, Legends of Wrestling or Indies game player there will be new game releases for you at GalactiCon.  For COTG fans its the big GWF Kingdom Come 2134 game edition.  Indies fans will see the release of a special game pack featuring some very popular indie wrestlers.  Legends fans will also have a special Limited Edition set of cards.
Tournaments, Tournaments, Tournaments – It wouldn't be GalactiCon without tournaments and we will have a bunch on Saturday and Sunday.  The as usual the winners of the 8 qualifying tournaments will do battle for the GalactiCon Cup on Sunday.  The 8 qualifiers will be:

Canada Cup – The 28th Annual 4 Bracket Round Robin Sunday morning tradition featuring classic GWF wrestlers.
GWF Kingdom Come 2134 – The first tournament to feature the newest game cards.
Legends of Wrestling – Featuring wrestlers from the Color and B&W Legends games.
Battle of Pittsburgh – Best of the Indies tournament.
King of Hardcore – An all special matches tournament.
Women – The best female wrestlers from Legends, Indies, GWF and GWFZ.
WWE/NXT – Featuring cards of wrestlers that now appear on WWE programming.
Mystery Tournament – Come to GalactiCon to find out!

The Annual Trivia Battle Royal – Test your wrestling knowledge of Filsinger Games and pro wrestling.  This year there will be a twist for the final contestants left standing that will help decide the winner of a special prize.
Charity Auction and Raffle – Once again we will be holding an auction to benefit a charity near and dear to the Filsinger Games community.  Original pieces of art and other one of a kind collectibles will be available.  Announcements of some of the major items will be made ahead of time, so that fans that can't be in Pittsburgh can still participate.  One special prize will also be raffled off to one lucky game fan.
Q&A's with Tom and the Filsinger Games staff – Want to know all about Tom's thought process going into creating 2134?  Want to know about how the Legends are chosen for the new color releases?  Want to know what game releases are coming up this fall for Indies and Legends and what more is coming for the Online game?  Tom and the Filsinger Games staff are ready to spill it all in special Q&A's on Saturday and Sunday!
Visit with other game fans! – Although there are lots of great activities going on, the thing that keeps Filsinger Games fans coming back to GalactiCon every year is the fellowship with other game fans.  So visit with old friends, or meet some for the first time that you have only conversed with online.  Its the one weekend of the year that your get to be with a great group that all share your same passion!
So what are you waiting for make your plans now and see you in the Steel City this July!