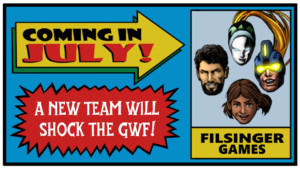 Hey true believers! Have we got a treat for you next month!
If you thought Godsend had pulled some mischief before, you ain't seen nothing yet.
In SUDDEN DEATH 2135, Godsend pulls off the most shocking trick of all.
Plus more mayhem and an unexpected heel turn.
A wrestler ambushed and out for a whole year.
All this and Sudden Death too but with Godsend's rules!
What does it all mean?
You'll find out in SUDDEN DEATH 2135 coming in July!
A marvelous tribute to the memory of Stan Lee. Excelsior!