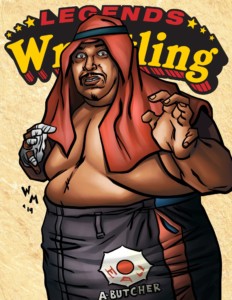 Headlining the newest Legends set that has a focus on hardcore wrestlers is perhaps one of the most feared hardcore wrestlers of all time, Abdullah the Butcher!
Rising to fame in the height of the territory era, Abdullah the Butcher was a major attraction that brought a unique level of violence that translated into big business for territories that utilized him.  He rarely stayed in one area for long, moving from promotion to promotion and selling out venues around the world. Abdullah had a number of memorable bouts, but some of the most notable were against his most heated rival Bruiser Brody.  There is no doubt that promoters everywhere are eager to book this classic match-up in their fed!
Abdullah the Butcher joins Shane Douglas, Killer Kowalski, Sandman, Justin Credible, Al Snow, and Ox Baker in the 10-card Legends Expansion Set 4.  This game edition and Special Edition cards for Francine and Bill Alfonso will debut July 13th at GalactiCon in the Philadelphia area!  The game will begin mailing to customers by July 22nd.  These games and the latest Champions of the Galaxy game edition GWF Sudden Death 2135 are available to preorder right now!