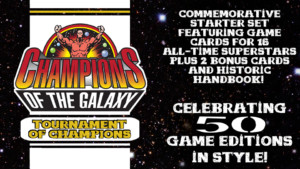 Coming this September will be some major releases for Champions of the Galaxy, Legends of Wrestling and Indie Wrestling game fans! Filsinger Games promoters who attended GalactiCon got a sneak preview of our upcoming releases, but here is more of what to expect next month.
Champions of the Galaxy: Tournament of Champions will be an epic celebration of the 50th GWF game edition and will feature characters from across all of GWF history.  This set will feature some reimagined and recolorized artwork, along with a brand new character.  Also included will be a special handbook, which not only gives information on the characters, but will cover the history of the Champions of the Galaxy game.
GeorgeTragos/Lou Thesz Pro Wrestling Hall of Fame Set is a new Legends set featuring members of this Hall of Fame located in Waterloo, Iowa.  This set will include 10 cards and feature many brand new names to Legends of Wrestling, along with some Legends wrestlers appearing in color for the first time.
Best of the Indies Tag Teams 2020 will feature 5 featured tag teams that are on top of the indie wrestling world from across various promotions. This set will feature 8 wrestlers getting their first ever Filsinger Games playing cards, along with 2 wrestler updates that better fit their new tag team persona.
In addition, Q3 of Promoter Prime 2020 will ship with these games.  Champions of the Galaxy Prime features 3 more cards in the ongoing Kronos series. Legends Prime will feature 3 new wrestlers to fill out your Legends roster.  Indies Prime will feature 3 new wrestlers to the game all of whom have tag partners that are already in the game, to give promoters even more choices in beefing up their tag team divisions.
Teasers will begin this Wednesday August 5th with the first Indies tag team.  Legends teasers will be Fridays and COTG teasers on Mondays each week through mid-September.