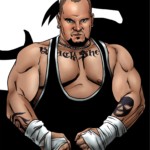 The Dark Menace Forces are coming! Will your http://viagra-vs-cialis-best.com/ wrestling promotions be ready? This is the ultimate invasion team! You can add them to any of the promotions you play: Ring of Honor, Chikara,
CZW, Legends…whatever! All the members of Dark Menace Forces http://viagra-vs-cialis-best.com/ have
been active buy cialis with priligy online in several indy promotions. You'll get playing cards for Black Sheep Benett Cole, Luscious Rocky Reynolds (tag-team: Criminal Justice), Laura Phoenix, Lone Wolf Rex Havoc, The Morning Star Michael Kai Rayne, and of course the infamous "Manager of Champions" the Dark Menace! This team means business! Dark Menace Forces starts mailing on September 23! Watch for information to pre-order and prepare your game feds for an incredible invasion angle!