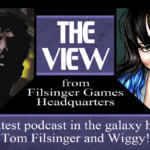 The first Filsinger Games podcast is under our belt and it was a great success! Our guest Bryce Remsburg was impressed and he quipped: "It's like being on the first Saturday Night Live!"
The show featured fan questions for Tom about the history of the games as well as updates on current releases. Featured guest Bryce Remsburg talked about CHIKARA and SHIMMER as well as WrestleCon. While Bryce was being interviewed a game match was being played with Larry Sweeney scoring a victory over Eddie Kingston with Bryce as special referee!
Tom formally announced that a PERCY PRINGLE playing card will be released in late May and exclusive sneak preview card art is coming to Filsinger Games twitter on April 19!
To listen to our groundbreaking premiere podcast go here.
The second installment of THE VIEW FROM FILSINGER GAMES HEADQUARTERS is coming in May. Watch for announcements about guests!