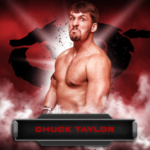 Independent wrestling star Chuck Taylor will be participating in our awesome COTG: THE LIVE EVENT show coming on July 11 in Jamestown New York!
Taylor is known for his heel antics in Evolve, Chikara, and PWG. He is slated to be the Evil Gamemaster, none other than Thantos! This will be a show to remember!
This event keeps getting better and better and the only way to be sure it'll happen is to help us make it happen! Make a contribution at kickstarter for this unique and historical show. Champions of the Galaxy goes live for the first time and Chuck Taylor is going to be there to help make it happen!
This is also a GalactiCon not to be missed!