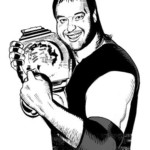 Doug Gilbert will be reunited with his brother Eddie Gilbert in LEGENDS MADNESS. Will they target former rivals like Bill Dundee, Tommy
Rich, and Tracy Smothers? Or will they feud with another brother team,
like Randy Savage and "Leaping" Lanny Poffo? One thing is for sure, anything can happen in the LWF! Doug Gilbert and other newcomers
will invade the LWF in LEGENDS MADNESS which is set to start mailing on December 16 or maybe sooner! This set is one of our all-time greats so order NOW!