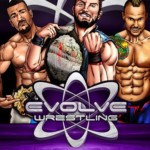 Filsinger Games is partnering with yet another great wrestling promotion – EVOLVE!
Evolve Wrestling is a professional wrestling promotion founded by current Dragon Gate vice president, Gabe Sapolsky. From the official Evolve web site:
EVOLVE wrestling puts the emphasis on exciting, athletic action with its dynamic talent roster. EVOLVE strives to create a one-of-a-kind environment that advances all styles of pro wrestling.
You'll receive playing cards for Evolve stars like Johnny Gargano, A. R. Fox, Ricochet, and Trent Barreta! The Evolve starter set will feature 16 playing cards so keep watching starting February 11 for weekly teasers and wrestling bios! It's gonna be fantastic!
Filsinger Games has already released official games for Ring of Honor, Combat Zone Wrestling, and more! Now Evolve is added to the list of great promotions that YOU can play! In fact you can play promotions wars pitting them against each other for supremacy!
Evolving Wrestling Game is coming in April. Keep watching for updates on the official release date and info to pre-order! And remember: Filsinger Games is on the march in 2014 as our games continue to Evolve!