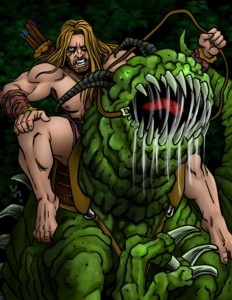 Last week we met MAYHAM, the first of four promoter creations, brought to life by FTR Madness winner Broc Atkinson. This week we're introduced to the first of four Filsinger Games staff creations – VACANT!
Vacant is rumored to be one of Cannibal's many illegitimate children growing up and running wild in the dark jungles of Neptune. He is a savage fighter, raised among beasts, untamed and void of normal human behavior. Named for his primitive nature and wild eyed thousand yard stare, Vacant is a fearless hardcore rookie!
But the fans aren't sure what to think of the Neptunian newcomer. Is Vacant a heroic Space Cropper? Or is his destiny to follow in the sadistic footsteps of his villainous father?
In the ring, Vacant uses SPINE CRACKER – a familiar finisher used by Renegade at the start of his career.
Check back next week for another incredible promoter creation when the second of four FTR Madness winning characters is revealed!