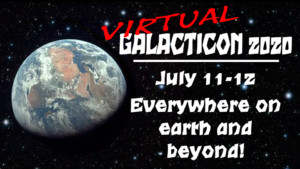 A Filsinger Games tradition started in 1990 with its annual summer convention GalactiCon. 30 years later the tradition continues! But this time in a whole new way…virtually.  Despite not being able to get together in person, we will still be able to connect as a community, and include promoters that have been unable to attend a GalactiCon before.
CONVENTION AND TICKET INFORMATION
Date/Time: Saturday July 11-12, 2020
Featuring: Filsinger Games tournaments, Q&A's for Champions of the Galaxy, Legends of Wrestling and Indies, plus Trivia, Charity Auction, and Special Guest, artist Daryl Banks!
Cost: $10, to the full convention including tournament entry. $7, for entry in just non-tournament activities (Q&As, Auction, Trivia, Social Events).  All convention attendees receive a limited edition Filsinger Games playing card to be announced.
Tickets: Available on Monday Jun 22nd.  Tickets must be purchased by 8:00 PM EDT on Thursday July 9th to be registered for the tournaments.  Tickets to participate in non-tournament activities will be available up to and throughout the convention.  They can be purchased HERE.
A questionnaire will be sent to those that purchase tickets to GalactiCon to collect additional information, including preferences on tournaments.  Please note that number of players per tournament is capped at 32 (except the Canada Cup), and the number of tournaments available to each attendee will he evened out as much as possible.
GALACTICON 2020 SCHEDULE OF EVENTS
All events will be hosted on the Filsinger Games zoom account, with separate breakouts for tournaments and some other events.  All times listed are in Eastern Daylight time.
Friday July 10
7:00 to 9:00     Friday Night Gathering
A chance to see and meet other promoters taking part in the Virtual convention.  Discuss the recently released Origins 2136 game edition and other new cards with Tom and the Filsinger Games staff. Breakout groups will be available for different discussion topics.
Saturday July 11
11:00 – 11:30   Convention Opens
An introduction to the first virtual GalactiCon.  The Filsinger games staff will discuss how the event will function, walk through how tournaments will work, and answer any questions you have.
 11:30 – 12:30   GWF 2136 Tournament
12:30 – 1:30    Battle of the Indies Tournament
1:30 – 2:00      Filsinger Games Indies Q&A
Learn about the indies game creation process with Werner Mueck, Zeke Gould, Ty States and Todd Joerchel
2:00 – 2:30      Great Galactic Trivia Contest
Test your knowledge of Champions of the Galaxy and other games from Filsinger Games.
2:30 – 3:30      Champions of the Galaxy Q&A
Join Tom as he discusses GWF Origins 2136 and other upcoming projects.  Mike Melesky will discuss Future Shock: Centra, and Rob Beaubien will discuss Kronos and COTG Prime.
3:30 – 4:30      GWF 2090 Tournament
4:30 – 5:30      Legends Tournament
5:30 – 6:15      Legends Q&A
Hear from the Legends team Chad Olson, Cory Olson and Tim Dalton about the Legends creative process and what project is coming next.
6:15 – 7:00      Auction
Rare COTG and LOW collectibles, plus other surprises!
Proceeds will benefit a charity selected by convention participants.
8:30 – ?            Night at the Matches
Hang out and watch some classic and wild wrestling matches and promos.
Sunday July 12
11:00 – 12:00   Future Shock: CWF Tournament
 12:00 – 1:00    Women's Tournament
1:00 – 2:30      Canada Cup Tournament
The longest running annual GalactiCon tournament featuring round robins and a playoff among the winners.
2:30 – 3:00      GalactiCon Special Guest: Daryl Banks
Daryl Banks discusses his work on Champions of the Galaxy and in the comics world.
3:00 – 4:00      GalactiCon Championship
The 8 tournament qualifiers from the weekend are invited back for the Grand Championship of GalactiCon.  Who will be immortalized this year?
4:00 – ?           Convention Closing
Say goodbye to friends new and old.
All events and times are subject to change.