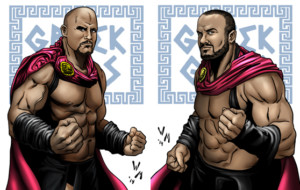 Last week we kicked off the previews of the Champions of the Galaxy Live Event game edition, with the Iconic headbangers the Gladiators of Aethra. Now this week we follow up with their arch enemies, the heroic time travelers from Ancient Greece, Proteus and Actagon, the Greek Gods!
The fan favorite tag team underwent an update in look compared to the traditional look of the tag team, now more resembling Spartan Warriors like in the movie 300. The roles were played by the Greek God himself Papadon (Proteus) and "Number 1" John Silver (Actagon). Now game fans can play out their epic battle with the Gladiators, like fans witnessed live in Jamestown, which turned into a wild brawl!
The COTG LIVE EVENT game edition will feature 10 cards and a handbook, and will be available in early
October! We'll be releasing sneak preview card art every week throughout September! Wrestling's more incredible and unique event of the year gets a commemorative game!