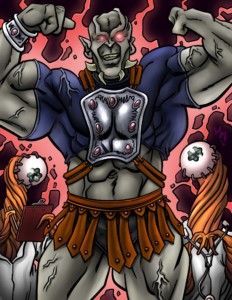 Make room for our third staff creation in FTR set 2 – MASS!
Kroll scientists have been trying, and failing, to recreate the success of Thraxx and Zygon for years, but without the lead of the Dark Menace, they just keep punching out duds. Persistent still, they send their best of their worst to FTR in hopes of getting the Dark Menace's attention and impressing him. MASS is a massive reminder of just how cruel life can be when genetic engineering goes wrong.
Mass is massive and powerful, but he's mostly just a big, slow, clumsy, deformed mass of muscles. Where many FTR fighters have promising futures, Mass is terrible now and will probably only get worse. Sometimes the most entertaining thing about Mass are the Kroll scientists who frantically dart around ringside as they study the failings of their genetic creation.