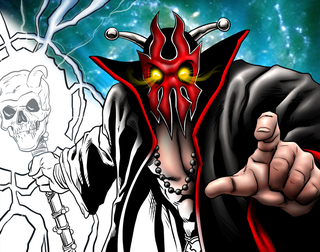 Did you think we'd ever run out of surprises? Nope!
CHIKARA's very own ULTRAMANTIS BLACK makes his debut in the GWF with a cool Limited Edition card that can be purchased exclusively from the CHIKARA store! CHIKARA has 100 numbered copies so when they're gone, they're gone!
You'll love adding ULTRAMANTIS BLACK to your BLACK DEATH 2128 fed! Will he join BLACK DEATH or fight them? It's up to you! Use your imagination to add him for highest impact! And don't wait to buy one (or better two or three!) ULTRAMANTIS BLACK Limited Edition cards because YOU KNOW the first 100 numbered cards will become Champions of the Galaxy collectibles in the years ahead!