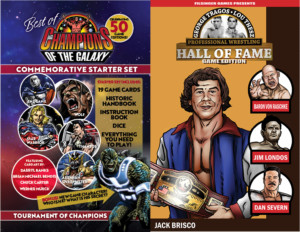 Well, the day is finally getting closer!
We have two landmark game editions being released together, a powerful tag team! It's the BEST OF Champions of the Galaxy (also called Tournament of Champions) and LEGENDS Tragos/Thesz Hall of Fame set!
With these stellar releases Filsinger Games soars to greater heights of glory! And all for YOU—the greatest game fans in the galaxy!
Thank you for your patience as we have worked hard to get everything where we want it. Knowing us some blunders slipped through, but you can bet that lots of blood, sweat, and tears went into these historic releases.
Were the pyramids built in a day? Of course not. Did Michelangelo paint the Sistine Chapel in a week? Impossible. Did Einstein write his Theory of Relativity in a few weeks? No way brother! Masterpieces take a while, and yes, I dare to say "Best of COTG" and "Legends Hall of Fame" games in the same paragraph with the greatest accomplishments in human history!
So be watching your mailboxes in early October for more fun than you've ever had before! Our team poured our hearts and souls into these releases. We do that every time but these games were even more unique than usual, requiring special love and attention. And we never want to send something to you that doesn't feel just right to us.
There's still more excitement ahead! On Wednesday (Sept 30) we'll have another Legends Hall of Fame teaser! And right here in this blog is another scoop announcing MOST of the roster of Best of COTG.
Take my word for it. It wasn't easy to reduce the list of hundreds of GWF characters to only 16 for the box set. But I did it! Really hard to go wrong. Here you go:
Star Warrior
Thantos
Wolf
Matador of M83
Chaos
Amazonia
Thrash
Thunder
Max Shield
Mandrill
Hector, the Holy Brown Bear
Sly Drury
Endgame
Godsend
Monolith
Aethran Overmaster
All this PLUS 3 bonus cards! I'll let you try and figure those out, although two should be easy if you've been keeping up with our announcements!
Some character cards have new art (like the awesome new Matador drawing by Darryl Banks) and a few have different cropping and/or colors on their game cards. The game card stats are updated for ALL the cards except one. I'll let you try to figure that out too!
This commemorative one-shot starter set should not only hook new fans to COTG awesomeness but be a great addition to the collection of our loyal fans!
I'll soon be filming a video where I'll talk about the making of COTG: Tournament of Champions. Look for release of the video in October or November!
And so onwards and upwards we go, blazing new trails in the indie game industry, welcoming new fans to Filsinger Games madness, and best of all making YOU happy with more incredible gaming excitement! If you've been staying inside a lot lately, these releases (and all our games) will make your time indoors a great action-packed escape as you partake in classic game battles across time and space! The only limit is your imagination—which means there is no limit at all!
Until the Basilisk actually learns some wrestling moves…
TOM