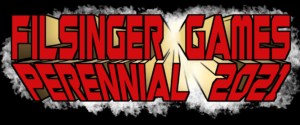 Following the success of the virtual GalactiCon game convention last summer, Filsinger Games is establishing an annual virtual event to kick off the year.  This year will see the first ever Filsinger Games Perennial event, named in honor of the first event of each year in the GWF.
CONVENTION AND TICKET INFORMATION
Date/Time: Saturday January 23, 2021
Featuring: Filsinger Games tournaments, Q&A's and announcements for Champions of the Galaxy, Legends of Wrestling and Indies, plus Legends Trivia, and Special Guest, artist Werner Mueck!
Cost: $10, to the full convention including tournament entry. $7, for entry in just non-tournament activities (Q&As, Trivia, Discussion Rooms).  All convention attendees receive a limited edition Filsinger Games Legends of Wrestling playing card to be announced.
Tickets: Tickets must be purchased by 8:00 PM EST on Thursday January 21st to be registered for the tournaments.  Tickets to participate in non-tournament activities will be available up to 11AM the day of the convention.  They can be purchased HERE.
A questionnaire will be sent to those that purchase tickets to the Perennial to collect additional information, including preferences on tournaments.  Please note that number of players per tournament is capped at 32, and the number of tournaments available to each attendee will be evened out as much as possible.
FILSINGER GAMES PERENNIAL 2021 SCHEDULE OF EVENTS
All events will be hosted on the Filsinger Games zoom account, with separate breakouts for tournaments and other discussion rooms.  All times listed are in Eastern Daylight time.
Saturday January 23
10:30 – 11:00   Convention Opens
Welcome to the Perennial event.  A time to say hi to other promoters.  The Filsinger games staff will discuss how the event will function, walk through how tournaments will work, and answer any questions you have.
11:00 – 4:00  Discussion Rooms Open
Separate discussion rooms will be open for fans to chat about Legends of Wrestling and Champions of the Galaxy that promoters can enter and leave as they wish.  During the afternoon Tom Filsinger will appear in the Dark Menace's Lair to meet and chat with game fans.  Other breakout rooms will be open for those participating in tournaments, which will also be open for non-tournament players to observe.
11:00 – 12:00    Kronos Battle Lines Tournament
12:00 – 1:00    Women of the Indies Tournament
1:00 – 2:00     Danny Hodge Memorial Jr Heavyweight Legends Tournament
2:00 – 3:00     The Dark Menace's Lair Featuring Tom Filsinger
3:00 – 4:00     Champions of the Galaxy Tournament of Champions
4:00 – 4:30   Break
4:30 – 5:00    Champions of the Galaxy Panel
Join the Champions of the Galaxy writers as they discuss recent releases as well as previewing the upcoming releases for 2021.
5:00 – 5:30   Perennial Special Guest: Werner Mueck
Filsinger Games most prolific artist Werner Mueck join to discuss his work on all game lines as well as his outside endeavors.
5:30 – 6:00   Filsinger Games Indies Panel
Join the Filsinger Games Indies creative team as they discuss what they have been working on and what to look forward to in 2021.
6:00 – 6:30      Legendary Trivia Contest
Test your knowledge of Legends of Wrestling trivia against the Legends team!
6:30 – 7:00      Legends of Wrestling Panel
Hear from the Legends team about their thoughts on the 2020 releases and the big plans for 2021.
7:00 – 8:00      Perennial Tournament Finals and the Perennial Championship
The finals for each of the 4 Perennial tournaments will be played out.  Then the winners of these tournaments will compete to crown the first ever Filsinger Games Perennial Champion!
All events and times are subject to change.