This Saturday July 13th at 1:30 we will have Filsinger games will hold its annual charity auction at GalactiCon.  This year the proceeds will benefit the family of long time Filsinger games friend Lyle C. Williams.  Below is a list of collectibles available at the auction.  If you are not attending GalactiCon and would like to bid please contact Todd@filsingergames.com and provide your phone number and indicate what items you are interested in and a max bid you are willing to make.
Early Classics cards and handbook – One of the most sought after game editions in Filsinger Games history!  A copy resurfaced recently and will be made available.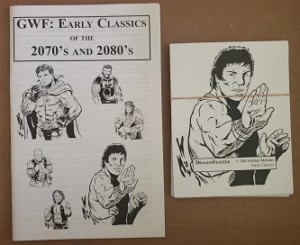 Draconian Sheik and Johnny Rocket – 2 limited edition cards available to Promoter subscribers in the 1990's.  Highly sought after by colelctors!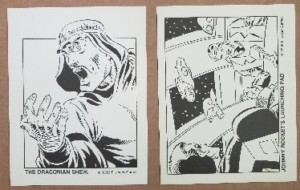 Filsinger Games stickers – 2 collectible stickers featuring early COTG ads.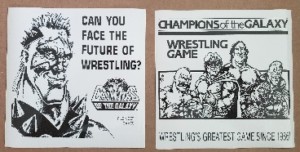 Justin Credible art – Original art from the Legends Hardcore Black and White set by Sonny Strait.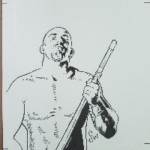 Doomsayer 2098 art – Original art from Revelations 2098 by Mike Gustovich.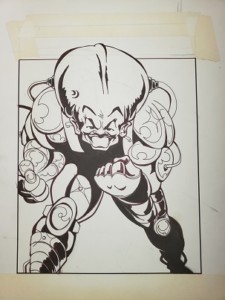 Magnus Colby and Sonora Pelf 2101 art – Original art from Megatournament 2101 by Brian Bendis.
Backseat Boyz art – Original art for Trent Acid and Johnny Kashmere Indy SE cards by Werner Mueck.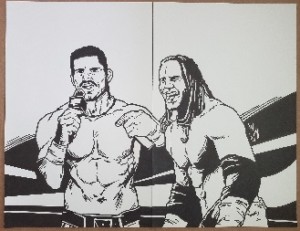 COTG: Behind the Scenes CD – Glimpses of original and unused art from over the years in COTG.
Songs on the Key of the GWF CD – A collection of Champions of the Galaxy inspired songs by the Throwing Toasters!  Comes with a Baby Tauran card!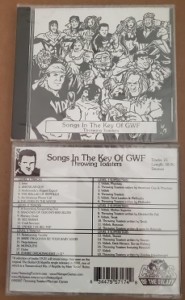 Indy Circuit Pulse – January 2018 magazine featuring an article on Filsinger Games and the giveaway card for Commissioner Charlie Cox.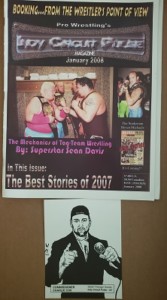 72 Mini Dice – 36 pairs of mini red and blue dice, just like the ones that come in Filsinger games starter sets.  Never run out of dice again!  Donated by Jim Steinhoff.
Legends of Mid-South DVD set – 3 disc set of classic Mid-South matches. Donated by Jim Steinhoff.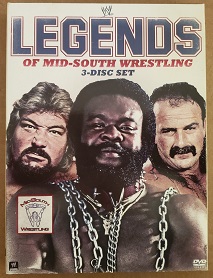 Uncensored ECW DVD – An original ECW produced DVD before being acquired by WWE. Donated by Jim Steinhoff.