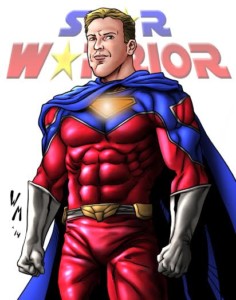 The greatest wrestling event in the galaxy, COTG Live Event, took place on July 11th in Jamestown, NY and front and center in that event was the greatest hero in the galaxy himself, Star Warrior!
Champions of the Galaxy fans know that Star Warrior is the son of the GWF founder Omega, and fights to uphold his father's ideals of fair play. However, the landscape of the GWF changed when Star Warrior's former partner Thantos turned his back on Omega and Star Warrior by breaking the Galactic Code and forming a team of villains to take over the GWF. The role of Star Warrior was played by Independent wrestling standout Orange Cassidy at COTG Live Event.
Fans in Jamestown got to witness this battle
of good and evil between the high-flying Star Warrior and the devious Thantos first hand. But now game fans can play out this match themselves as part of the COTG Live Event Game Edition. This game edition will feature the 10 wrestlers from the event and will come with a special handbook.
The game will ship out in early October and will be available for preorder on Monday October 6th so get psyched! The coolest wrestling event of all time is about to get collector's cards treatment with each card representing a mix of the fictional COTG characters with the real-life wrestlers that portrayed him!