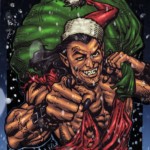 Tis the time to spread good cheer! And what better way than spreading the fun of our great games?
First off is our classic game CHAMPIONS OF THE GALAXY. This is an entire universe populated by incredible characters with a mythology that ranks right up there with Star Wars and the Marvel and DC Universe!  And now the original starter set is in full color with art by Darryl Banks! Stan Lee says Champions of the Galaxy is a really cool game so need we say more? Go here to see our introductory offers.
If you're a wrestling fan or want to give a gift to a fan we've got it TOTALLY covered!
The greatest wrestling legends of all time are in our LEGENDS OF WRESTLING card game. Go here for the starter set.
Love indy wrestling? Go here for the incredible RING OF HONOR starter set or here for CHIKARA! Please note you can get a package deal of RING OF HONOR and CHIKARA together! Can't beat that deal and can't beat that action!
There's more! We also feature starter sets for COMBAT ZONE WRESTLING, SHIMMER, and CHAMPIONSHIP WRESTLING FROM HOLLYWOOD! Go here for info on how to order those!
These games make great gifts and you can't go wrong…they've proven themselves with years on the game market and the loyalty and support of fans!
OUR GAMES ARE MAILED OUT THE VERY NEXT DAY DURING THE HOLIDAY SEASON SO ORDER NOW! SANTA WOLF WILL BE DISAPPOINTED IF YOU DON'T!