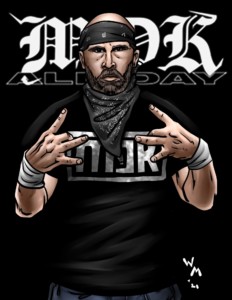 Nick. F'N. Gage! The GOD of Ultraviolence. The King. The folk hero of the independent scene and deathmatch legend. Gage's incomparable connection with the fans and willingness to do whatever it takes to entertain have made him one of the most talked-about wrestlers in the world today. 2021 has been a banner year for the living legend – gaining national attention as part of the wrestling documentary series, Dark Side of the Ring, and headlining with one of the greatest of all time in the hottest new promotion in the world. His feud with Matt Cardona set the wrestling world abuzz, and his upcoming showdown with Jon Moxley has been years in the making. You can run these matches and so much more, promoters, when Nick Gage comes to Filsinger Games this Fall!
Nick Gage will be available as a separate Special Edition card to compliment the Best of the Indies Deathmatch 2021 game edition.  Also, Gage's real life brother and deathmatch legend in his own right, Justice Pain, will be available in the Q3 release of Indies Promoter Prime 2021.  Will Nick Gage and Justice Pain team up in your promotion  or face off for family supremacy?
The Nick Gage Special Edition card and the Best of the Indies Deathmatch 2021 set are now available for pre order.  FUTURE SHOCK: Centra Wrestling Federation 2117 and the 2021 Legends Special Edition 4 Pack including Buddy Rose and Doug Somers are also now available for pre order. To order all these new items go HERE.
All of our fall releases and Q3 of 2021 Promoter prime will begin mailing by September 30th.
Also available now are tickets the the next Filsinger games virtual game convention, the 2021 Holiday Kickoff on October 17 from 1 to 6 PM Eastern.  Attendees will be able to take part in a virtual tournament (1 to 4PM Eastern), as well as participate in our Q&A (4 to 6PM Eastern).  The Q&A will feature a special wrestling legend guest, as well as announcements of upcoming releases for the holiday season.  All attendees will receive a special exclusive game card and a collectible Filsinger Games sticker.  The game card and sticker will be mailed to all attendees after the convention.  To get your ticket go HERE.