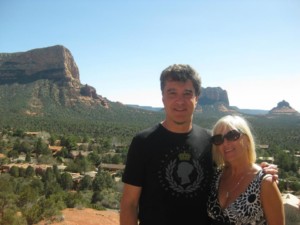 Hey gang, life is as exciting as ever, as I hope yours is too.
As many of you know, I moved from Jamestown NY to Sedona AZ in March (with a stop in Prescott Valley AZ in between). It was wild and crazy, moving is very stressful, especially after accumulating untold amounts of "stuff" after living 20 years in the same home. Our house had four floors including basement and attic, and there was a lot of packing, throwing away, and caught-in-the-middle decisions that had to be made.
But it's done and I'm here. Daniel Bryan got married in Sedona and (yes) it's easy to see why. It's beautiful here with the red rocks and scenery, plus the Grand Canyon is only two hours away.
But better yet is that Filsinger Games keeps rolling along and is stronger than ever! We've evolved from a company that is focused on one game line, Champions of the Galaxy, to a company that is CONSTANTLY releasing new games and products with our licensing partners. We recently released the CAC Reunion pack and Evolve 2. Next up is Inspire Pro Wrestling  featuring some of the best talent from the lone star state of Texas. I can just imagine the fun of having these Texas rowdies invade your game promotions, like an nWo invasion angle.
But it's going to keep getting better because summer is coming and we always kick it into high gear in the summer. I've been writing FUTURE SHOCK 2131 for the past several months and the excitement is off the charts!  For me, BLACK DEATH was a turning point as the GWF started to see grand, epic stories that are playing out with FUTURE SHOCK. And after 2131, then what? I already know, and it's going to keep being incredible!
Usually the new GWF game would be released at GalactiCon in Jamestown, but the times they are a'changin. That doesn't mean the end of GalactiCon…it can't! The GalactiCon tradition began in 1990 and there's no way we can just let it die. So this year marks a BIG step where GalactiCon gets even bigger than before. It'll be part of an awesome new event coming to Cleveland OH on August 14-16 called Wrestling Geek Fest.
Wrestling Geek Fest is being organized by our very own Tournament Master, Todd Joerchel. Todd has a lot of experience running cons because he's been a big factor in organizing GalactiCon for years. Wrestling Geek Fest will feature a live wrestling event by our new partner Absolute Intense Wrestling, along with great wrestling guests and plenty of other events. It's GalactiCon with a lot of fun stuff going on around it!
We're always on the move, never resting or settling down. Filsinger Games marches on stronger than ever!
In fact I've spent a lot of time today organizing a new game release, which is a terrible tease, but the plan is for this new release to be available for Wrestling Geek Fest. It's aimed at new buyers, but as always our long-time games fans, especially the ones that love collecting our stuff, will still enjoy it. How can we not go after new buyers? We know our games are great. We need to keep spreading the word!
Even though I moved to Arizona, I'm still intimately involved in the game business. I was on the phone yesterday with one of the wrestling guests who is coming to Wrestling Geek Fest. This is a BIG one. Our GalactiCon fans will LOVE this, take my word for it. Just think back to 1998 and I'll let it go at that. This should be very interesting.
I attended the Cauliflower Alley Club convention in April to promote our games and the CAC Reunion pack release. It was a blast, but it's also clear a lot of wrestling promotions want to work with us. And why not? It's a win-win when we release a game set. The wrestling promotion is happy. The wrestlers are happy. We're happy. And most important of all, the fans are happy.
I've also been working closely with Darryl Banks and Werner Mueck on all facets of Filsinger Games card art, doesn't get more enjoyable than that. Speaking of Darryl Banks, DON'T MISS GALACTICON THIS YEAR! You'll be able to meet our gifted artist in person!
I'm also involved with our social networking campaigns. Did you know that our tweets are viewed over 15,000 times every Monday night? That's just Monday night! And guess what…the numbers are growing every week. And on a monthly basis we're reaching over 150,000 people! I remember back in the day how print advertising costed thousands of dollars to reach that many people.  We're on the move, spreading Filsinger Games madness across the cosmos!
Todd Joerchel is our Director of Operations. He's busy fulfilling orders from his home base in New Jersey. Darryl lives in Ohio, Werner is in Oregon, and Kris is in Maryland. We're spread out across America, our reach is far and wide, but in the end Filsinger Games exists in the minds and imaginations of our game fans. Federation HQ is a mythical place where dreams are woven. You don't need one location for that. You just need people with passion doing their jobs so we can make YOU happy.
That's all I've ever wanted and I guarantee it will continue. FUTURE SHOCK 2131 will rock and so will the INSPIRE PRO pack and all our other exciting releases coming this summer.
Put that in your Club Galactica time capsule and smoke it!