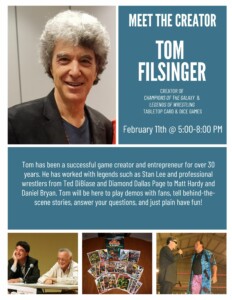 Game fans in the Los Angeles area, here's a treat for you! Tom will be at Emerald Knights comic book and gaming store on February 11 from 5 pm to 8 pm!
Tom will be there to spread the word about Filsinger Games and all our great releases! There will be game tournaments, demos for newcomers, and a chance to chat with other loyal promoters and the Dark Menace himself!
If you live anywhere within three states be sure to attend!
Emerald Knights Comics & Games
4116 Burbank Blvd
Burbank, CA 91505
https://emeraldknights.com/