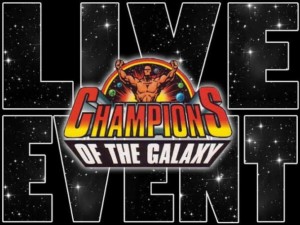 COTG Live Event was a great success and we've been busy sending out goodies to folks that helped us on Kickstarter. The original date for release of the COTG Live Event DVD was February but alas, great art takes some extra time!
When planning out the time frame last March, there were a number of contingencies in securing footage from multiple camera crews from different cities that took extra time. Additionally, the process of editing and video production is taking longer than anticipated. In the end we want to deliver something that really captures the vision of a Sci-Fi Wrestling TV show we had when planning this adventure, and do not want to rush it and put out something we are not happy with.
Jeff Gutherz, who is heading up the editing of the footage, is anticipating that we can have it ready to send out later this spring. In addition to the edited COTG event, an edited version of the Legends of Wrestling show will be included. We will also be including a bunch of documentary and bonus footage on the DVD, including:
– An exclusive interview with game creator Tom Filsinger from after the show.
– Behind the scenes footage from the day of the show
– A hilarious deleted scene from the Legends of Wrestling show.
– Alternate Match Commentary from the Alien Announce Team
We really believe this is something you will enjoy and be happy you supported. If you supported at the $20 level or higher you can view the Smart Mark Video edit now by downloading the digital version of the show. If you no longer have the download information, please email Todd at toddjoerchel@gmail.com and we will be happy to resend it.
Keep watching for updates because this is going to be worth it! Thanks again for your support!