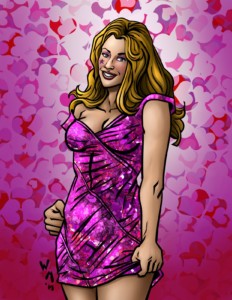 Vanity introduced a beast in 2088 when he brought the Creeper to the GWF, and now he's brought a beauty to join him – SWEET THING!
Vanity claims Sweet Thing is one of the many women who chase after him. She accompanies him to ringside proving a very powerful distraction to his opponents! But how does she think about the Creeper? And how does Vanity's rival Renegade feel about her? Find out when you relive the sweet glory days of the GWF with Invasion 2089 in full color!
Preorders for Invasion 2089 and Legends Expansion Pack 5 begin Black Friday November 29th!