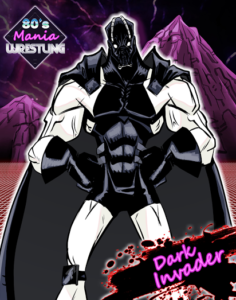 It was the 1980s. Pro wrestling and pop culture were at their peaks. And a man named Tom Filsinger started his own game company.
Fast forward to the present day.
Filsinger Games teams up with Checkmate Creative to present the 80s Mania Wrestling 8-pack!
Based on the colorful world of characters and concepts featured in the mobile game "80s Mania Wrestling," the 8MW 8-pack allows Champions of the Galaxy and Legends of Wrestling fans alike to take a nostalgic trip back to the 1980s and run their own federations inspired by pop culture's greatest decade!
Just wait until you see what's in store for this totally awesome new game pack!
You'll receive 8 wrestler cards featuring a mix of popular 8MW characters! Each wrestler has it's own Filsinger Games style move set as well as an additional 80s Mania Wrestling inspired MIC rating and POP rating!
How will these new ratings work? You'll find out when you also receive the MIC SPOT chart and SKIT chart! And yes, you can use these new cards and charts with any of your other Filsinger Games cards and charts! Everything is compatible!
As  if that weren't cool enough, with the 8MW 8-pack you'll also get PDFs of the original Filsinger Games charts! Of course you'll also receive a PDF handbook that includes character bios, move descriptions and more 80s Mania madness!
Please note that all wrestler cards will be mailed to buyers while the new charts and handbook will be sent via email in PDF form.
How will Dark Invader fare against Champions of the Galaxy legends like Wolf and Star Warrior? You'll find out!
80s MANIA WRESTLING 8-pack
End of January 2016