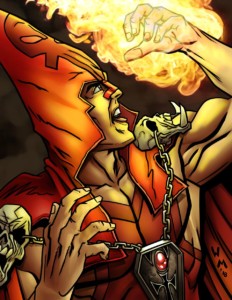 This guy will warm up your winter quite a bit!
It's time for the return of BISHOP HELL, one of the most infamous villains in Champions of the Galaxy history.
BISHOP HELL debuted in 1988 in INVASION 2088 and took his rightful spot in the pantheon of dark GWF villains, joining forces with none other than Thantos! They were a formidable team and gave Star Warrior and the hero side many nightmares.
Now you can relive the drama with the coming release of INVASION 2088 in full color in our new playing card style and featuring card art by Werner Mueck!
Do you remember the famous "Are You Ready for a Hot Summer?" full-page ad for Pro Wrestling Illustrated magazine? Well, this time Bishop Hell is coming during the winter months and he's going to heat up game action in your fed!
Pre-orders begin on Black Friday (appropriately) so get psyched!