Bobby Fish to Join Forces with Kyle O'Reilly in New ROH Pack!
Categories: Ring of Honor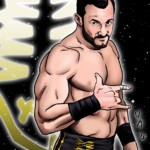 Current ROH Tag Team Champions BOBBY FISH and Kyle O'Reilly (reDRagon) are nitrates cialis coming to our first ROH expansion pack! Bobby Fish has extensive training in Martial Arts, holding a black belt in Tae Kwan Do, and also an impressive record in Muay Tai kickboxing. Fish uses these skills in the ring and complements viagra y sildenafil the MMA style of O'Reilly. The two had the biggest accomplishment of their careers earlier in generic viagra sildenafil 2013 in defeating the Briscoes for the cialis from canada ROH World Tag Team Championships. Can reDRagon be as successful http://sildenafiloverthe-counter.com/ in your fed? You'll find out when the ROH expansion pack comes out in late June! Keep watching for more sneak previews!