CHIKARMY 6-Pack is Ready to Pre-Order!
Categories: Chikara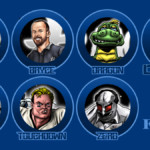 Our latest CHIKARA expansion pack is ready to pre-order! The roster for the CHIKARMY 6-Pack was voted on by game fans and CHIKARA fans and CHIKARMY 6-Pack #2 is coming later this year, but for now you'll have a chance to enjoy the wild and crazy CHIKARMY 6-Pack #1! CHIKARMY 6-Pack #1 will be exclusively released at WrestleCon in Secaucus, New Jersey on April 6-7 then begins mailing on April 10. Pre-order right away, we mail games
in the order that we receive them. You'll love it!