Coast 2 Coast Joins the Ring of Honor Tag Ranks in the latest game pack!
Categories: Ring of Honor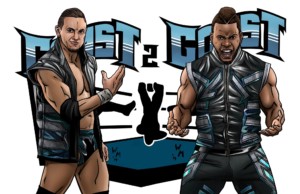 On the heels of announcing Villain Enterprises, another Ring of Honor tag team will debut in the new Supercard of Honor set, Coast 2 Coast!  This exciting young tag team is comprised of "The Human Rocket" Leon St. Giovanni (LSG) and Shaheem Ali.  The team combines LSG's spectacular aerial maneuvers which Ali's deceptive speed and strength. This duo both graduated from the world renowned Monster Factory and debuted in ROH in 2015.  While they had some success early on, it took until the end of 2017 for their breakthrough match, a win in a do or die match against the War Machine, in which Coast 2 Coast came out on top.  After that match they went on an impressive winning streak and earned a shot at the ROH World Tag Team Titles.  While they haven't yet achieved gold in Ring of Honor yet, given their talents its only a matter of time before they get another opportunity.
Coast 2 Coast join Brody King, PCO and 4 other first-time ROH cards in the Ring of Honor Supercard of Honor 8-pack.  This game edition will be available for preorder next Monday and will begin mailing in late May.