Delirious is Seeing Red in Upcoming Legends of Honor Pack!
Categories: Ring of Honor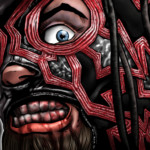 Delirious is seeing red in the Legends of Honor 6-pack – RED POISON!
Things are about to get nuts in the Ring of Honor Wrestling Card Game when RED POISON DELIRIOUS is on the attack! Here comes an awesome variant of the Ring of Honor legend Delirious in his Red Poison persona! Can anyone stop this madman when he sees red in the ring!?
ROH and FG fans alike are foaming at the mouth to book Delirious vs. Necro Butcher in hardcore matches when the ROH Legends of Honor 6-pack starts mailing on December 16! Pre-order starting on November 29 and avoid seeing red without it!