From the Other Side of Darkness Here Comes Holidead!
Categories: Uncategorized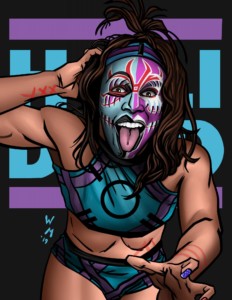 The 3rd woman to join the Women of the Indies game edition is certainly the darkest one yet, its Holidead!  Whether she is wrestling women or wrestling demons Holidead is an imposing presence with her distinctive facepaint and creepy aura.  She has had singles success throughout the indies, but her greatest success has come as part of the tag team the Twisted Sisterz with Thunder Rosa.  The duo have dominated tag team action in places like Ring of Honor and have captured women's tag team gold on multiple occasions.  Great ready for when Darkness Falls on your women's roster this September!
Holidead joins Xia Brookside and Allie Kat in the Women of the Indies 2019 8-Pack.  The set will debut in September alongside the Best of the Indies 2019 8-Pack which features 8 of the top male indie wrestlers in 2019.