The Wolf is Back on the Prowl in the Women of the Indies Game!
Categories: Uncategorized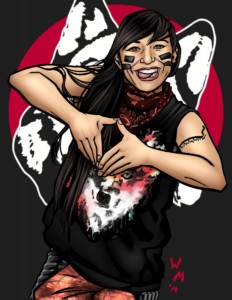 The 5th woman to be part of the Women of the Indies 2019 game edition is part woman and part animal, its Kris Wolf!  As she often says Wolf was born in the US but made in Japan.  She fell in love with Japanese Joshi wrestling and moved to Japan to train and wrestle for a number of years.  In 2018 she began traveling the world competing for a number of independent promotions including Ring of Honor and SHIMMER.  Unfortunately in April of 2019 Kris Wolf retired from wrestling due to long-time issues from concussions, but her career can live on in your women's promotion!
Kris Wolf joins Xia Brookside, Holidead, Scarlett Bordeaux and Allie Kat in the Women of the Indies 2019 8-Pack.  The set will debut in September alongside the Best of the Indies 2019 8-Pack which features 8 of the top male indie wrestlers in 2019.  The games will be available for presale next Monday September 2nd.