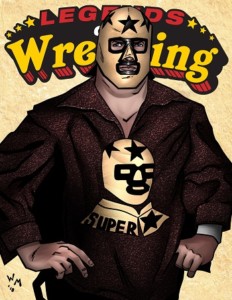 It's time to announce the first wrestler in the next Legends of Wrestling color expansion set.  He is one of the most notorious masked wrestlers in history.  He's not going to scream or shout.  He's just going to dominate your fed with his unbreakable cobra clutch.
The Masked Superstar is coming to the LWF.  Will he feud with the Destroyer, another masked wrestler?  Or will someone else draw his attention?  You will decide this April when the Masked Superstar ships with the second Legends Expansion set.
Masked Superstar is part of a 10-card expansion set that will feature new wrestlers as wells as some remakes of classic characters from the black and white Legends games.  Keep watching over the coming weeks as we announce the names in this anticipated game edition!