Mr. Touchdown and Mysterious and Handsome Stranger to Reignite Feud in CHIKARMY Pack!
Categories: Chikara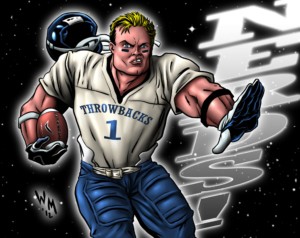 Game fans can play out one of the biggest feuds from the past year, when MR TOUCHDOWN MARK ANGELOSETTI and THE MYSTERIOUS AND HANDSOME STRANGER come to the Chikara game! Mr. Touchdown is the current Young Lions Cup Champion, winning the cup shortly after vanquishing his rival Archibald Peck in a Loser Leaves Town match. Shortly after Peck's departure, a mysterious masked newcomer came to CHIKARA accompanied by his feral pigeon Sapphire. The two had their inevitable confrontation at the end of 2012 when The Mysterious and Handsome Stranger unmasked as a returning Archibald Peck. How will this feud unfold in your fed? The wrestlers featured in the CHIKARMY #1 6-Pack were voted on by Filsinger Games fans and the
Chikarmy! The first of 2 Chikarmy 6-packs will be released in April, with the 2nd 6-pack coming later this year. The CHIKARMY #1 6-pack will be released at WrestleCon on April 6 and then starts mailing on April 10!