OLE! El Generico to Bring Brainbustaaah to ROH Game!
Categories: Ring of Honor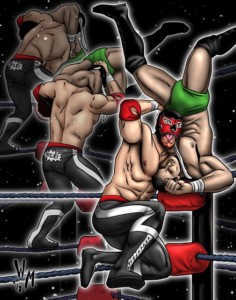 The ROH Wrestling Game, featuring a 26 card Introductory Box Set is due for release at the end of November, just in time for the holiday season, and EL GENERICO is crashing the party with BRAINBUSTAAAHHH!!! It's a tough finisher to pull off, but when EL GENERICO hits it, it means lights out for his opponent! Will you book Kevin Steen vs. El Generico in a FIGHT WITHOUT HONOR MATCH? Get psyched, it's coming soon!