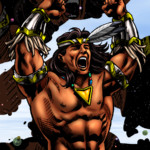 One of the legends of Champions of the
Galaxy is getting new card art that gives him more vitality and energy than ever! It's none other than OMEGA, father of Star Warrrior and a central figure in early GWF history!
Keep watching for info on how to pre-order and get psyched! ORIGINALS #4 is on the way!