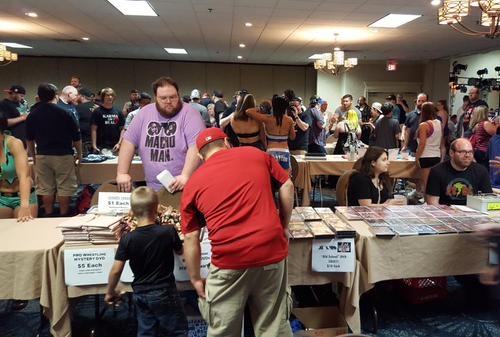 We came, we saw, we conquered.
Filsinger Games sponsored their first convention last weekend (Aug 14-16) called Wrestling Geek Fest, an event that combined professional wrestling, games, and popular culture. It was an action-packed convention and if you weren't there you missed some wild unscripted moments!
Wrestling Geek Fest included live matches, comedy, music, and movies to say nothing of unpredictable improv events and live podcast interviews. Live matches featured a ladies tag team where the talented women were dressed as their favorite wrestling legends. The Absolute Intense Wrestling show on Friday night featured exciting mixed gender matches of men vs. women. The live matches on Saturday night featured carnival era fisticuffs (Olde Wrestling) and even alien wrestlers from the future (Champions of the Galaxy) to say nothing of hardcore action (Combat Zone Wrestling).
Wrestling Geek Fest featured a diverse lineup of entertainment including stars from Comedy Central, Destination America, and the WWE Network. Geek Fest also included an emotional moment about wrestler Tim Donst's battle with cancer, which was depicted in a documentary called Wrestle Donst Wrestle, that debuted at the convention. Donst also wrestled at the event in a live classic match against former WWE tag champion Paul London.
If you weren't at Wrestling Geek Fest, the DVD and downloads showcasing two nights of live matches will
be available soon from Smart Mark Video. Keep watching for updates!
The first Wrestling Geek Fest was a historic event! What will happen at Geek Fest 2?