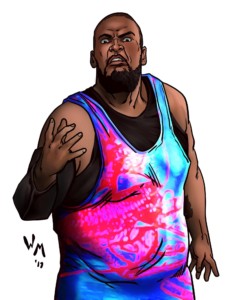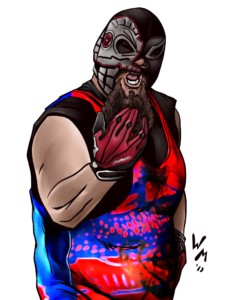 The release of the Pro Wrestling International set is fast approaching, and do we have two big names for you this week.  And do we mean big!  Aaron Biggs and Mecha Mercinary are 2 of the biggest competitors in both CWF Mid-Atlantic and NOVA Pro Wrestling, and are also two of the biggest fan favorites.  The duo first formed a team in April 2016 and soon went on to win the CWF Mid-Atlantic tag team titles.  They held the title for nearly a year and even won the prestigious Kernodle Brothers Tag Team Tournament during that run.  However, they received the moniker the Sandwich Squad at NOVA Pro Wrestling when they were awarded "sammiches" after a successful match.  A tasty tradition that continues to this day, much to the Sandwich Squad's delight.
Aaron Biggs and Mecha Mercinary join CW Anderson, Trevor Lee, Andrew Everett, Chet Sterling, Roy Wilkins, Logan Easton LaRoux, Ethan Case, Jake Manning, John Skyler and the Carnies in this unique set that highlight 3 major promotions under the Pro Wrestling International banner: CWF Mid-Atlantic, Premiere Wrestling Xperience, and NOVA Pro Wrestling.  Pre-sale for the game pack along with a Limited Edition card for the "Progressive Liberal" Daniel Richards is now available HERE.
Games begin mailing September 20th and will be available at the NOVA Pro Wrestling NOVA Project 3 show on September 22nd.  Details on that show are available HERE. Pre-order now! This is one of our biggest indie sets ever!