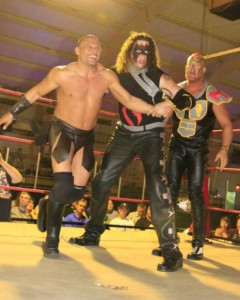 You can't keep headbangers like Brute and Massacre down!
Nor also Sage Strong and Malta the Damager! The two big men will return as the Gladiators of Aethra on August 15 at Wrestling Geek Fest for a big tag bout on Saturday night! In their debut match last year in Jamestown, NY, Brute and Massacre suffered a double disqualification against the Greek Gods due to their extreme headbanging ways. What mayhem will ensue on August 15 in Cleveland?
You'll find out when you attend Wrestling Geek Fest, the greatest new wrestling convention of the year. Get your tickets now, it's going to be a big show! For all the information you need go to: http://www.wrestlinggeekfest.com.
But be careful. There will be Aethran militants in the streets of Cleveland…and they mean business!