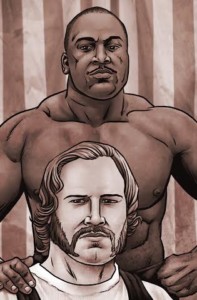 The legendary strongmen duo, Clean and Jerk, better known as the Jollyville Jeepers, are set to do battle in the Olde Wrestling ring.  The duo has performed at the Olde Wrestling Extravaganza before, where besides wrestling they attempted to set the tandem bar ball lifting record.  This duo may not have the grappling experience that other wrestlers do, but their unbridled strength is sure to give them an advantage!
The new Olde Wrestling Extravaganza pack will be available at Wrestling Geek Fest on August 14 in Strongsville, OH and at Yet Another Extravaganza of Wrestling on August 31 in Norwalk, OH. Games will be made available for sale online following the convention, along with our other incredible release, Absolute Intense Wrestling game.
Get psyched! Some of the very best in independent wrestling is coming YOUR way this month!