Wheeler YUTA flies into the Best of the Indies!
Categories: Uncategorized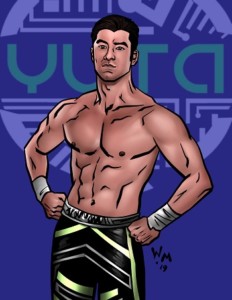 The 7th man to join the Best of the Indies roster is one of the finest up and coming high flyers in the country, Wheeler YUTA.  YUTA was trained by Drew Gulak and has gained experience at a number of East Coast indies like CZW, Chikara and Beyond Wrestling.  He expanded his training in Japan and is now making his name across a number of top independent promotions seen throughout the country.  Wheeler YUTA is an example of the wrestler of the future, displaying a combination of technical wrestling holds and submissions, combined with high flying abilities few wrestlers possess.
Wheeler YUTA joins Tom Lawlor, Mance Warner, Josh Briggs, Anthony Greene, Curt Stallion and Robbie Eagles in the Best of the Indies 2019 8-Pack.  The set will debut alongside the Women of the Indies 2019 8-Pack which features 8 of the top female indie wrestlers in 2019.  Both games are available for preorder now, by going HERE.  Games will ship by September 30th.