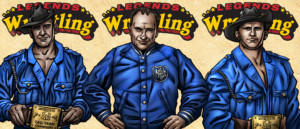 Al Costello and Roy Heffernan are among the greatest tag teams to ever step foot in the squared circle. In fact, it could be argued that many modern teams that lay claim to that title aren't even close. Not only were they phenomenal in the ring, but the Fabulous Kangaroos helped to put tag team wrestling on the map in the first place. Making their debut for one of the most storied promotions in the history of Canada on May 3, 1957, the Kangaroos shot straight to the top of the card and began their run as one of the most hated teams on the continent. In a little over a year, they had captured one version of the world tag team titles and faced down teams that included names like Antonino Rocca, Pepper Gomez, and the Flying Redheads. Their hall of fame career didn't rest simply on Heffernan and Costellos' shoulders, though. "Wild" Red Berry, a former light heavyweight champion and standout competitor, managed the team from ringside – ever-present in his warm-up jacket with "I am Right" emblazoned on the back. Berry also managed Gorilla Monsoon for a time – accompanying him to the ring during his main event feud with the Northeast's longest-reigning champion and guiding Monsoon and Killer Kowalski to tag team gold as well. With nearly a decade of greatness, at least 13 tag team championships to their credit, and multiple halls of fame honoring their work, the Fabulous Kangaroos are indeed the definition of "legends". These new color update cards are available later this month as a part of Legends Prime 2022!
Legends Expansion IX, Best of Indies Tag Teams 2022, KRONOS: Return to Civilization, and the 1st quarter of Promoter Prime will begin shipping in late March.
Preorder the 3 new game editions HERE.
To check out all of the Promoter Prime options for 2022 go HERE.