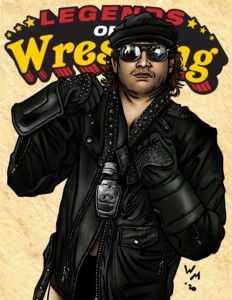 80s wrestling fans, get ready for the "Golden Boy"!  That's right, Adrian Adonis is joining the roster of Legends Expansion VI.  Adonis competed in multiple territories across the United States, becoming a singles and tag team champion.  He was a tough as nails competitor, who could brawl and wrestle scientifically, depending on what the occasion called for.
One of Adonis' former managers, Bobby Heenan, is on the Legends of Wrestling roster.  Is a reunion in the waiting?  Will any of Adonis' other friends (or foes) be entering in Legends Expansion VI?  You'll have to wait until December to find out!
Adonis joins Bob Orton, Jr., Koko B. Ware, The Barbarian, and The Warlord on the roster of Legends Expansion VI.   The set will be available in December and preorders will begin on Friday, November 27th.  Stay tuned for more roster announcements every Friday!