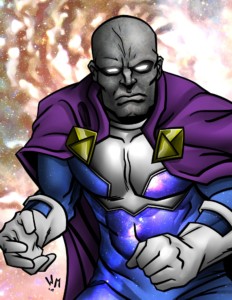 GWF fans still talk about the time legendary manager Doomsayer kidnapped a man named Astarte from Eridanus and swapped bodies with him. Many years later the story comes full circle as the son of Astarte enters FTR!
FTR fans brace for a natural feud between Astarte and Disciple of Terror! "Disciple of Terror pays tribute to a fightee who took shortcuts and aligned himself with the lowest scum in the GWF! It is my mission to show you the errors in your misplaced faith!" Battles between Legacy of Astarte and Disciple of Terror are sure to rock the FTR!
Astarte is created by promoter winner Pete Beck! Awesome creation, Pete! Learn Astarte's full shocking story when you order FTR 2!