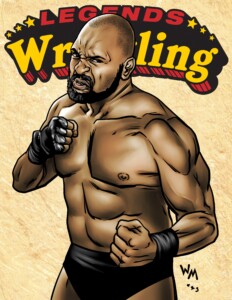 The 3rd and final wrestler that is part of the 1st release of Legends Promoter Prime 2023 is none other than Bad News Allen!  Allen was born in Harlem, NY and at age 15 began training in judo.  He was quite accomplished in the world of competitive judo, winning 2 golds in the Pan American games as well as an Olympic medal.  After retiring from judo, he began training in Japan to become a pro wrestler by Antonio Inoki.  Allen wrestled in Japan and the States before having a notable championship run in Calgary.  However, it was in 1988 when Bad News got his most notoriety when he began wrestling for the largest televised wrestling promotion in the world. It was there that he had some high profile feuds against the likes of Randy Savage, Hacksaw Jim Duggan and most famously Roddy Piper.  It is certainly some bad news for the fan favorites in your Legends Promotion once Bad News Allen makes his debut!
Preorder Best of the Indies 2023, Legendary Ladies 3 and FUTURE SHOCK 2118 go HERE.
To check out all of the Promoter Prime options for 2023 go HERE.
Legendary Ladies 3, Best of the Indies 2023 and Future Shock 2118 and the 1st installment of Promoter Prime have begin shipping.