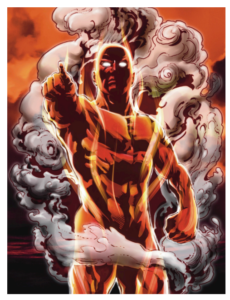 Burning Man is on fire!
He's got a new direction and a new plan in ORIGINS 2139 and it is guaranteed to shock loyal promoters and that guarantee is written in a wall of fire!
Burning Man has discovered a new form of his powers, a new skill. What can it be and what does it mean for the GWF?
Burning Man wants GWF fans to know that he is a man that doesn't take a back seat and shouldn't be taken lightly. He has new partners and a new purpose. Who are his partners and what is the new purpose? The answer is too amazing and too shocking to be believed!
It's all coming in ORIGINS 2139 which is due for release in July. Get psyched! The last installment in the four-part ORIGINS story arc is upon us and the conclusion will leave you talking to yourself while walking the streets! Your normal life is about to be severely disrupted.